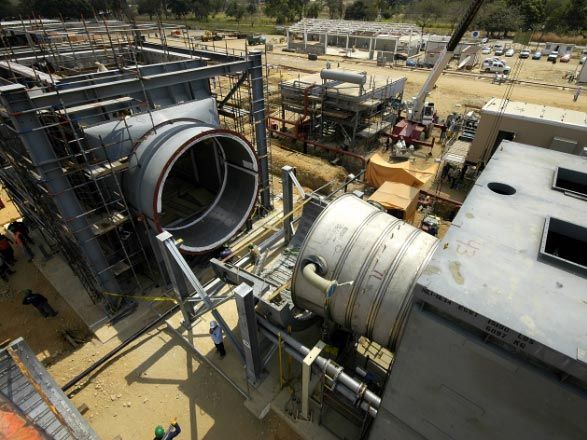 Termozulia III Combined Cycle
CUSTOMER: CORPOELEC
YEAR: 2010
LOCATION: Zulia State, Venezuela
EPC.
Design and construction works for a 465 MW Thermoelectric Plant.
Power Cogeneration Plant
CUSTOMER: Avanzia Instalaciones S.A. de C.V.
END CUSTOMER: Alfa
YEAR: 2018
LOCATION: Altamira, México
A 325 MW cogeneration facility.
San Martin Thermoelectric Plant
CUSTOMER: Termoeléctrica José de San Martín
YEAR: 2009
LOCATION: Timbues, Santa Fe Province, Argentina
EPC Lump Sum.
Turnkey.
Termobarrancas Thermoelectric Plant
CUSTOMER: Termobarrancas, a Repsol YPF affiliate
YEAR: 2006
LOCATION: Obispos, Venezuela
EPC
Design and construction works for a thermoelectric plant to be operated with a combustion turbo-generator and the associated 230 KV substation.
Cardón Refinery IPP, Venezuela
CUSTOMER: GENEVAPCA, an Electricidad de Caracas affiliate
YEAR: 1994
LOCATION: Cardón, Venezuela
EPC Lump Sum – Turnkey
Three 100 MW turbo-generators and four 40 ton/h boilers, including start up, as well as building a 115 KV substation and double circuit 115 KV transmission lines interconnecting Amuay and Cardón refineries to the National Power System.
LAFITO Haiti MV Transmission Line and HFO Pipeline Project, GB Group, Haiti
CUSTOMER: GB Group
YEAR: 2016
LOCATION: Lafito, Haiti
Engineering to recommend the configuration of the Medium Voltage Distribution System, and to provide conceptual engineering for the Heavy Fuel Oil / HFO Unloading System and Line intended to carry 22,000 HFO barrels.